The Ultimate Plugin
for best track design ever.
Reduce your production time using TSS plugin for accurate measurements and ready to use results. Download the Autocad plugin and within minutes you will be able to calculate complex railway tracks.
Accelerate your production
Reduce your design production time and guarantee your results' accuracy using TSS tools
Your Ultimate Engineering Partner
Let the Experience guide your project from the basic engineering to the detailed Design Phase at staggering pace
Construction Support
Our team will help you gain time for everyday site tasks checking the quality of your progress rate using TSS tools.
Your Top Engineering and Software Partner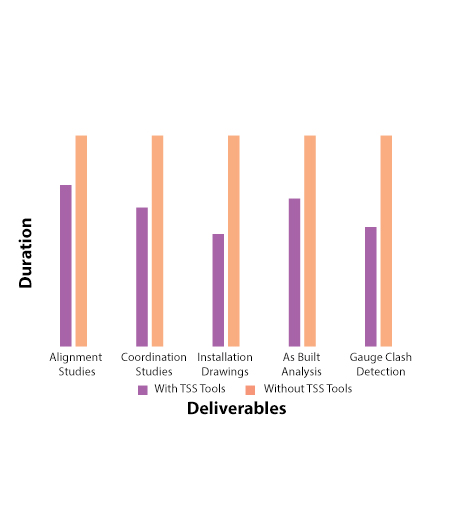 The design process gets significantly accelerated
With the confidence provided by the accuracy in the results and the error reduction, project's rate takes off.
10-50

%
TSS tools  accelerate certain engineering tasks by 10 to 50%.
20

*
20% re-submission reduction due to human error minimization
Students
Get acquainted with difficult engineering processes in Autodesk CAD environments.
Engineers
Focus on solving engineering problems, let TSS tools deal with side tasks.
Contractors
Get all the support you need to make everyday site tasks faster, easier and accurate.
Save time and avoid mistakes using TSS tools
In the demanding area of linear projects (rail/road/pipeline) design and engineering, TSS provides an amazing bunch of tools in order to speed up your process and calculation time. Our team can provide you not only with the software but also with our expertise to create an engineering pipeline, adding value to your business and up scaling your results in demanding engineering tasks.

Engineering Solutions
We deal with special issues finding solutions that combine innovation, scientific approach and experience
Locator
Use Locator when you work with pathways and localize Kilometer Positions with one click and get the results for further analysis.
Animator
Use Animator when you work on drawings with vehicles that run through pathways and detect clashes.